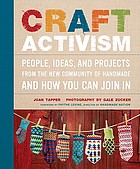 Craft Activism: People, Ideas, and Projects from the New Community of Handmade and How You Can Join In
By Joan Tapper
 Craft Activism: People, Ideas, and Projects from the New Community of Handmade and How You Can Join In  by Joan Tapper is filled with great stories about people that love to create and are making a difference with their creations.
You'll learn about Jenny Hart who is taking embroidery to the next level with her hip retro designs, Bee Shay's artist trading cards and the Orphan Foundation of America's The Red Scarf Project that sends out over 2,500 hand knit red scarves each February to college students coming out of the foster system.
Craft Activism will introduce you to new ideas, get you excited, and make you want to try something new. 
-Karen
2 Responses to "Book review: Craft Activism: People, Ideas, and Projects from the New Community of Handmade and How You Can Join In"