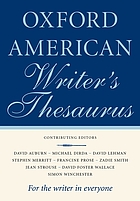 Oxford American Writer's Thesaurus
edited by Christine Lindberg
There's no more surefire way to kill a party than to say, "Hey, you guys want to know about my favorite thesaurus?" If I say dictionary, we could have an interesting discussion about the essential functions of dictionaries and then settle in to the old "prescriptive v. descriptive" argument. Maybe we could talk about the oldest copies of the OED we've seen and how many volumes they had.  But a favorite thesaurus?  Really? Who even needs a thesaurus when a list of synonyms is just a right-click away.
A thesaurus is a tool; a means to the end of finding substitute words. But like many tools, a thesaurus wielded by an untrained hand becomes a danger. So what are we to do if we don't want to chop off our fingers?
The Oxford American Writer's Thesaurus goes beyond the rote list of synonyms and antonyms found in lesser thesauri. It's a guide to language with usage guides by Bryan Garner (who has edited some of my other favorite word related reference books), word banks (for example, a list of different types of chairs: Adirondack, cane, captain's), and word spectrums. The word spectrums take a word like beautiful and runs through the incremental differences in meaning of words between beautiful and ugly.
The best part of the Oxford American Writer's Thesaurus are the wonderful little essays by such dignitaries as Washington Post critic Michael Dirda, novelists Zadie Smith and David Foster Wallace, and musician Stephin Merritt, of The Magnetic Fields. Writing on love, Merritt states, "The rhymes with love are limited to above, dove, glove, of, and shove. Romance is much better; at least it rhymes with dance." These essays and other features serve to make the user consider that there is more to word choice than substituting bigger or fancier sounding words. The OAWT suggests context and connotation better than the average thesaurus. And more than that, it's just fun to read, a better endorsement than most thesauri deserve.
4 Responses to "Book review: Oxford American Writer's Thesaurus"