Billy Collins is a poet for people who don't like poetry.  His funny, accessible poems have the power to win over even avowed poetry haters.  You will not want to miss his free NPL appearance on Saturday, November 13th at 10:00 a.m. at Hume-Fogg High School.
This collection includes my favorite Billy Collins poem, I Chop Some Parsley While Listening to Art Blakey's Version of "Three Blind Mice."   
This recording of one of Collins' performances will give you a taste of what his Nashville appearance will be like: part wry comedy, part astute observation of life's details, part heartache.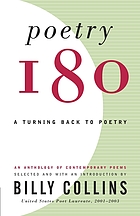 Poetry 180: A Turning Back to Poetry
While Billy Collins was Poet Laureate, he created an innovative program which encouraged high schools to read one poem a day during the morning announcements (the 180 referring to the 180 days of a school year).  This is a collection of those poems.
 -Beth